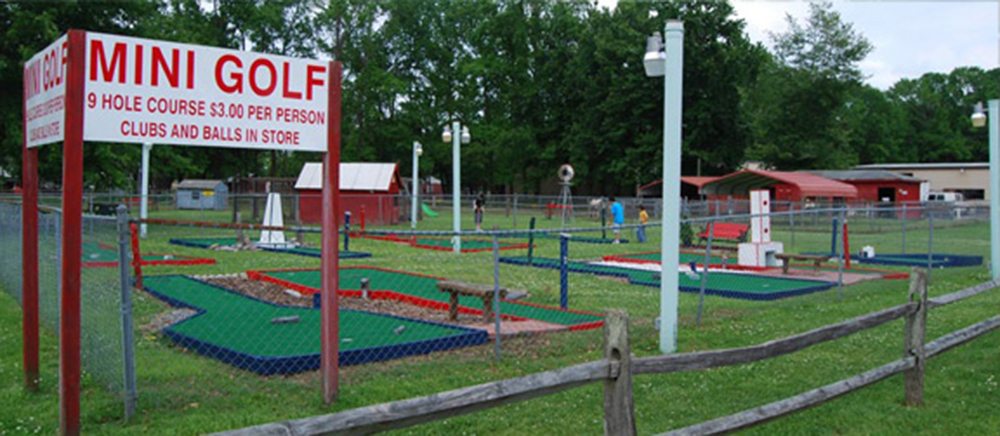 Additional Activities At Chesapeake Campground and Pavilion
Here at Chesapeake Campground we have fun activities for the whole family to enjoy both onsite and offsite! We welcome you to explore the beautiful countryside and waterways that Chesapeake, Virginia has to offer with our bike rentals, canoe rentals and John Boat rentals. Or, stay right here on the grounds and enjoy our train room, exercise room, swimming pools, tennis courts, driving range and mini-golf. If you're having an event, be sure to check out the great rates for our Pavilion Rental. Additional activities and rates are listed below:
Hayrides
Available Saturdays and Sundays between 2PM and 4PM
Runs for 2 hours
$75.00 (plus tax)
Call for Reservations
Golf Driving Range
Available Daily
Bucket of 40 balls for $5 each
Mini Golf
Available Daily
$3 per person
Canoe, John Boat, and Kayak Rentals
Available Daily
$4 per hour for canoe and John Boat. No more than 2 persons to a canoe, 3 persons to a John Boat.
$2 per hour for one-man kayak. Full Day Rental – $25 per day.
At least one renter must be 18 years or older and have a valid driver's license for each boat rented.
Bicycle Rentals
Available Daily
$2 for 1 hour
$5 All Day rental
Pony Rides
Available, weather permitting, Saturdays and Sundays between 1pm and 4pm April through October
$3 for twice around the ring (pony must be led)